Custom Quote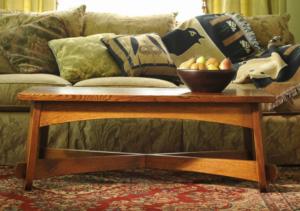 Each of our items are built to order, showcasing your unique style and meeting the exact needs and specifications of your space. Design your custom built wood furniture from scratch or start with an existing design and alter the dimensions, finishes, shelving and other aspects to create your very own piece.
We will take your vision of a living room centerpiece or even a simple, favorite nightstand and create a strong, beautiful, finely-crafted piece you will cherish. No project is too large or too small, and every custom-built furniture item is transformed from natural wood to a functional, artistic masterpiece with skilled craftsmanship and meticulous detail. Make an immediate statement in your entryway or living room or make a unique haven in your bedroom with your own Stickley, Mission and oak custom built wood furniture.
Let us know your specifications, and we'll keep in touch to make sure you receive exactly the item you wanted. Design a truly unique piece that you will find nowhere else and will harbor your style and character for a lifetime. Contact me with any questions and I would be happy to go over some options with you.